Play and win Bitcoin with THNDR Games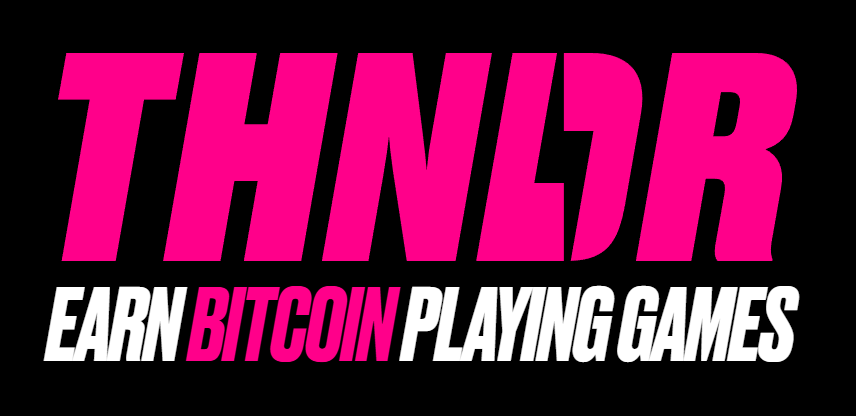 Do you want to play games and win some Bitcoin? THNDR Games got you covered!
All you have to do is, download the games and play them, as easy as that.
How Many Games Does THNDR Have?
THNDR, has 6 games till this date, which are, "Bitcoin Bounce", "Bitcoin Bay", "Bitcoin Snake", "Turbo 84", "Club Bitcoin Solitaire" and the newest one "Tetro Tiles Puzzle Blocks".
You can find them here!
You can download all these games on both Android and IOS devices.
How Does the Game Mechanics Work?
The mechanics of the games are fairly simple, just download the game, play it, get some purple tickets, enter the draw and win some Bitcoin.
YES, it is THAT easy!
How Do You Enter the Draw?
You enter the draw automatically when you collect your first ticket, nothing special should be done from your side.
How Do You Win Bitcoin?
When you play the game and the draw happens, you get a notification of how many Sats you have won.
P.S. You can check the time of the draw inside the panel of each game.
How Do You Withdraw the Sats That You Won?
When you win Sats with THNDR, they send your prizes using the lightning network, so you can withdraw your prizes to any lightning enabled wallet.
Some examples: Wallet of Satoshi, Phoenix, Muun Wallet etc…
Don't have a lightning wallet yet? No problem, THNDR recommends to start using Wallet of Satoshi, because it is the easiest wallet to setup and start using, particularly to players that are new to the Bitcoin space.
What Are Leagues?
Leagues, got introduced to THNDR with Club Bitcoin Solitaire, and got shipped also with their newest game Tetro Tiles.
THNDR has 6 leagues in both games, where you challenge 10 people with you in the same league, and you go up or down a league depending on your score.
THNDR Games and NOSTR
Now, you can add your "npub" to Club Bitcoin Solitaire or Tetro Tiles and earn Nostr badges for playing Leagues.
When you first add your "npub" you will get your first badge which is "THNDR Player", and then you get your next badge for each league you get to, until you get the champions badge when you win the final league.
I wrote a blog post about that on Nostr, you can read it from here!
How Can You Win More Sats Playing THNDR Games?
You are playing games and winning Sats, but you want more! There are cool tournaments happening every weekend where you get to play a chosen game and try to beat someone invited by the THNDR team. If you manage to be in the top 50 players of that tournament you can win more Bitcoin.
You can also, join THNDR's Discord server by following this link: https://discord.com/invite/chAwSQFU9Z
They are organizing cool and fun mini tournaments daily.
Do you have more questions? Just let me know and I can answer all of them!
Support Cryptonator
Share love over Lightning
Tip me
Spread the word!
Don't forget to follow Bitcoin du Liban on our social media